SKU: BE880PLUS-CE
The BERNINA 880 PLUS Crystal Edition is the top model of BERNINA sewing and embroidery machines. It features a huge selection of stitches, stitch patterns, lettering and embroidery designs, as well as the most modern software and sophisticated functions. The faceplate and the service panel are designed in an exclusive geometric white-and-beige pattern and embellished with dazzling crystals from Swarovski. The B 880 PLUS Crystal Edition adds glamour to any sewing space!
Availability: In stock
View full details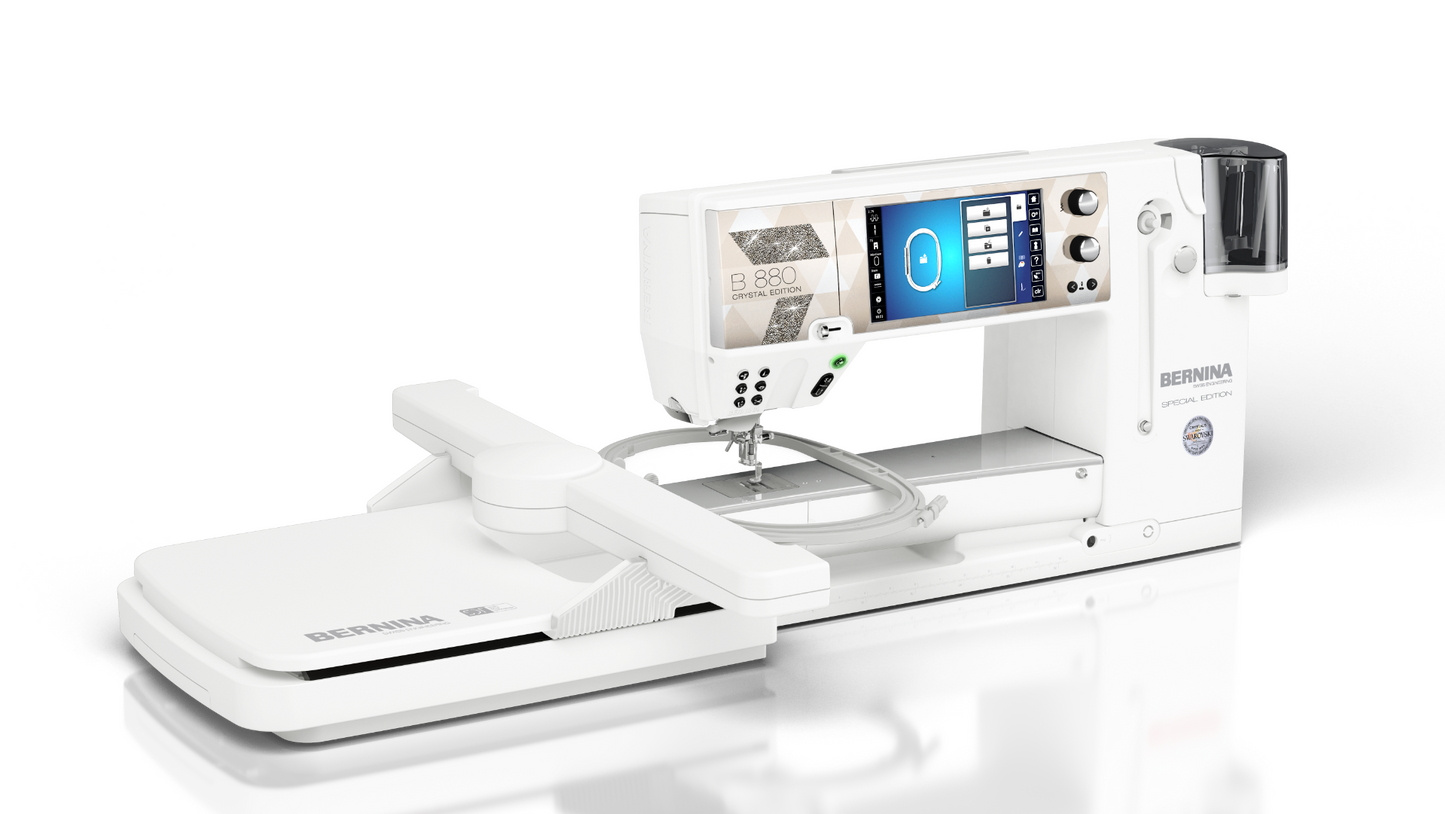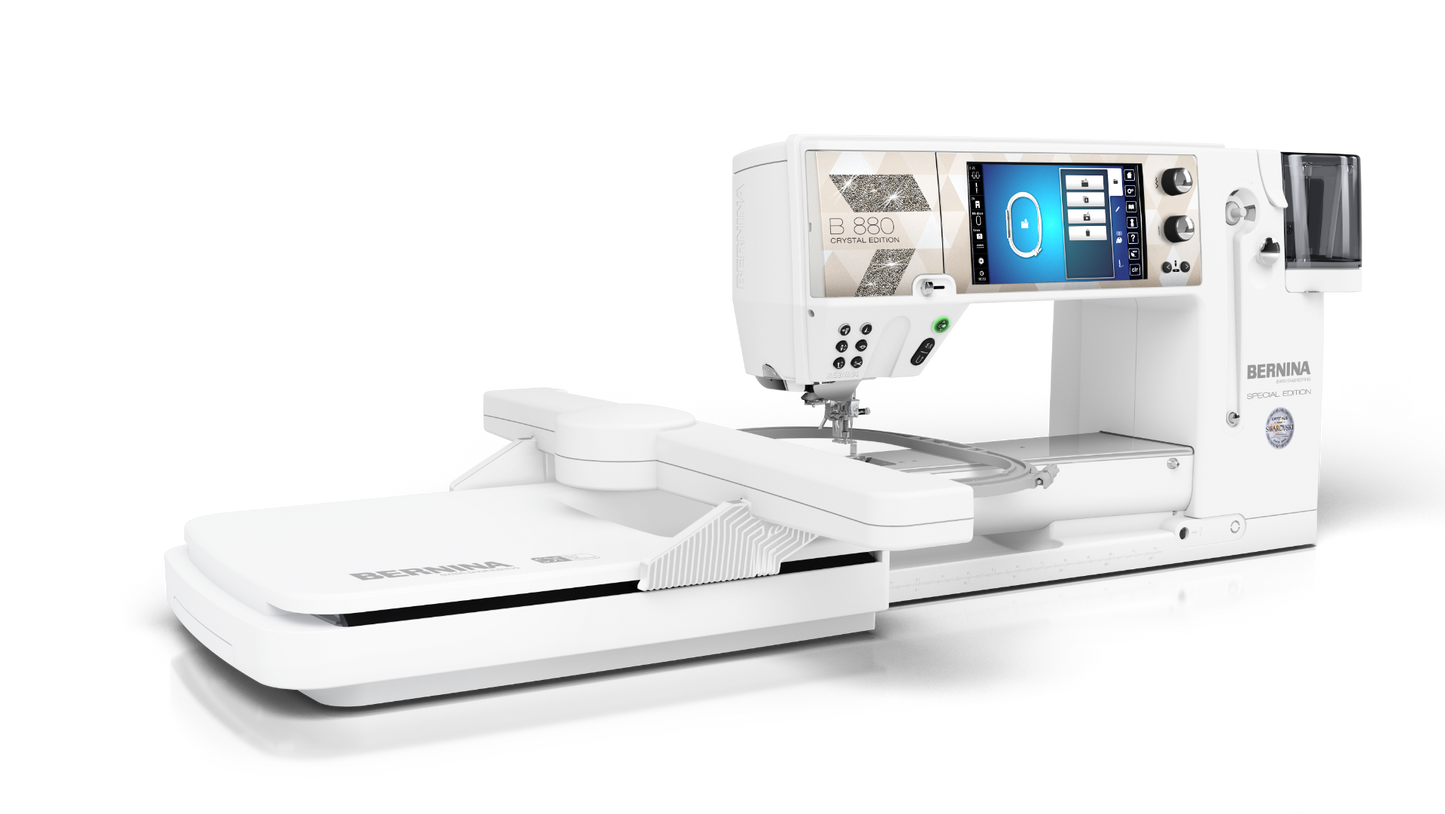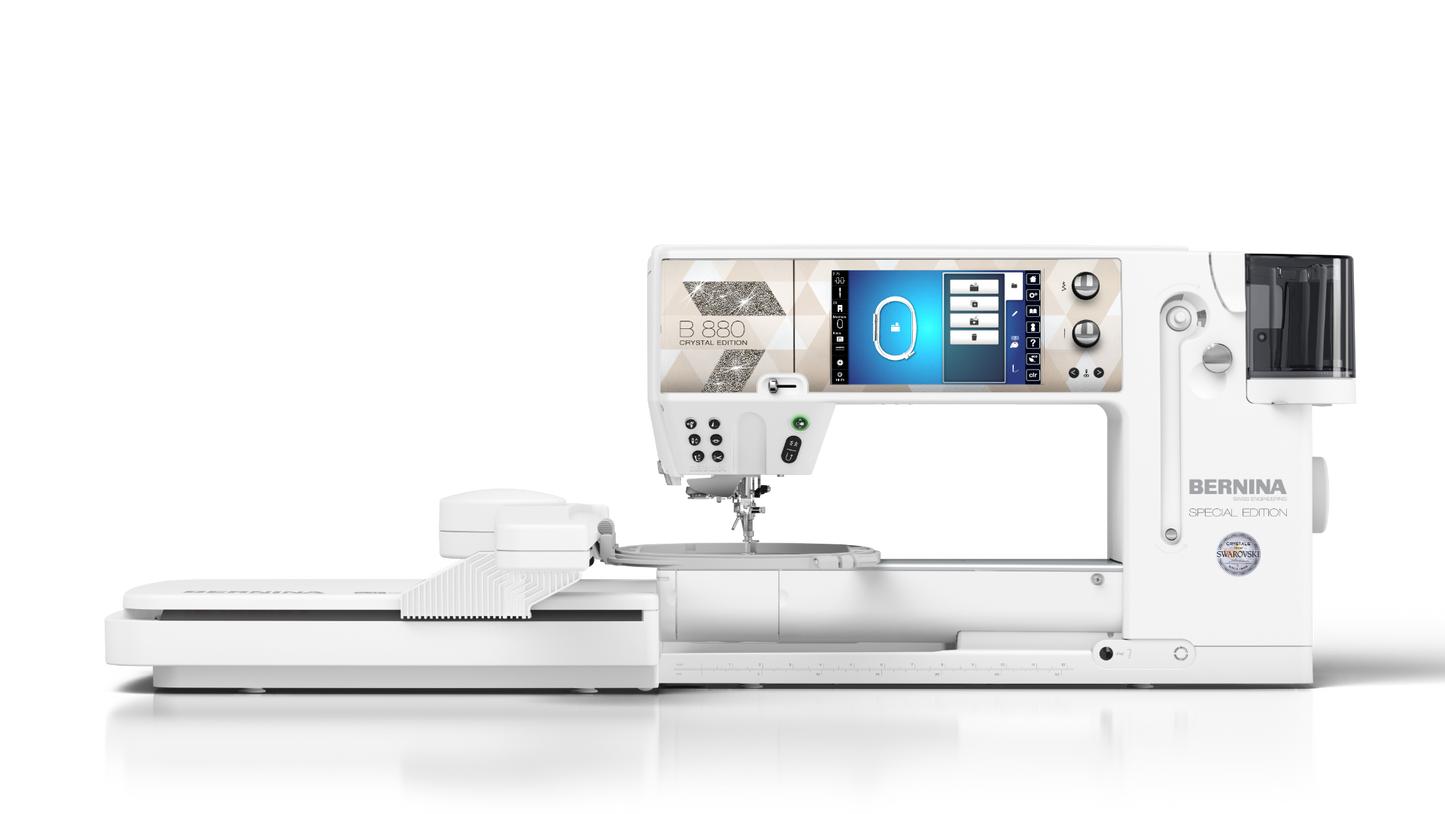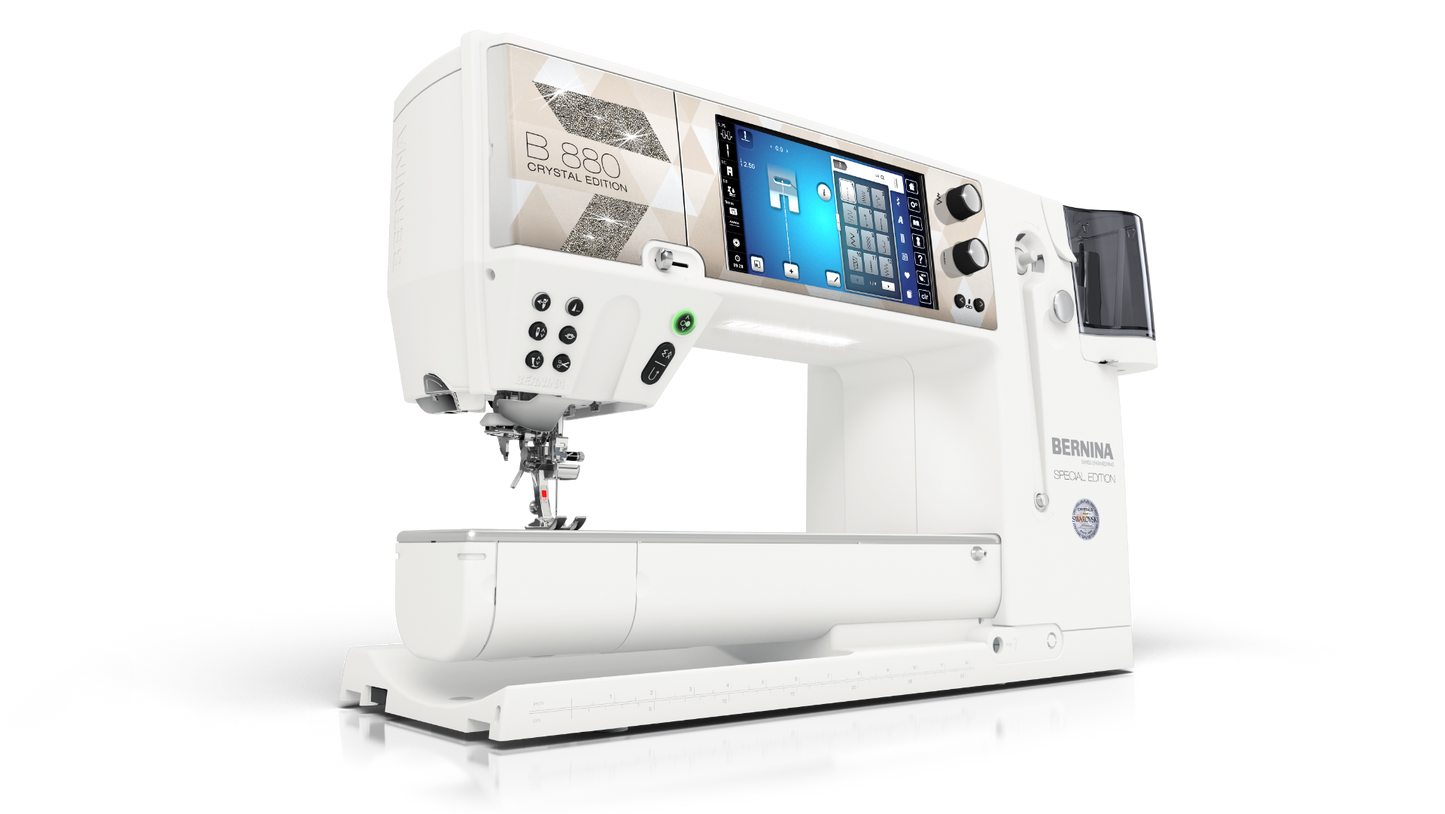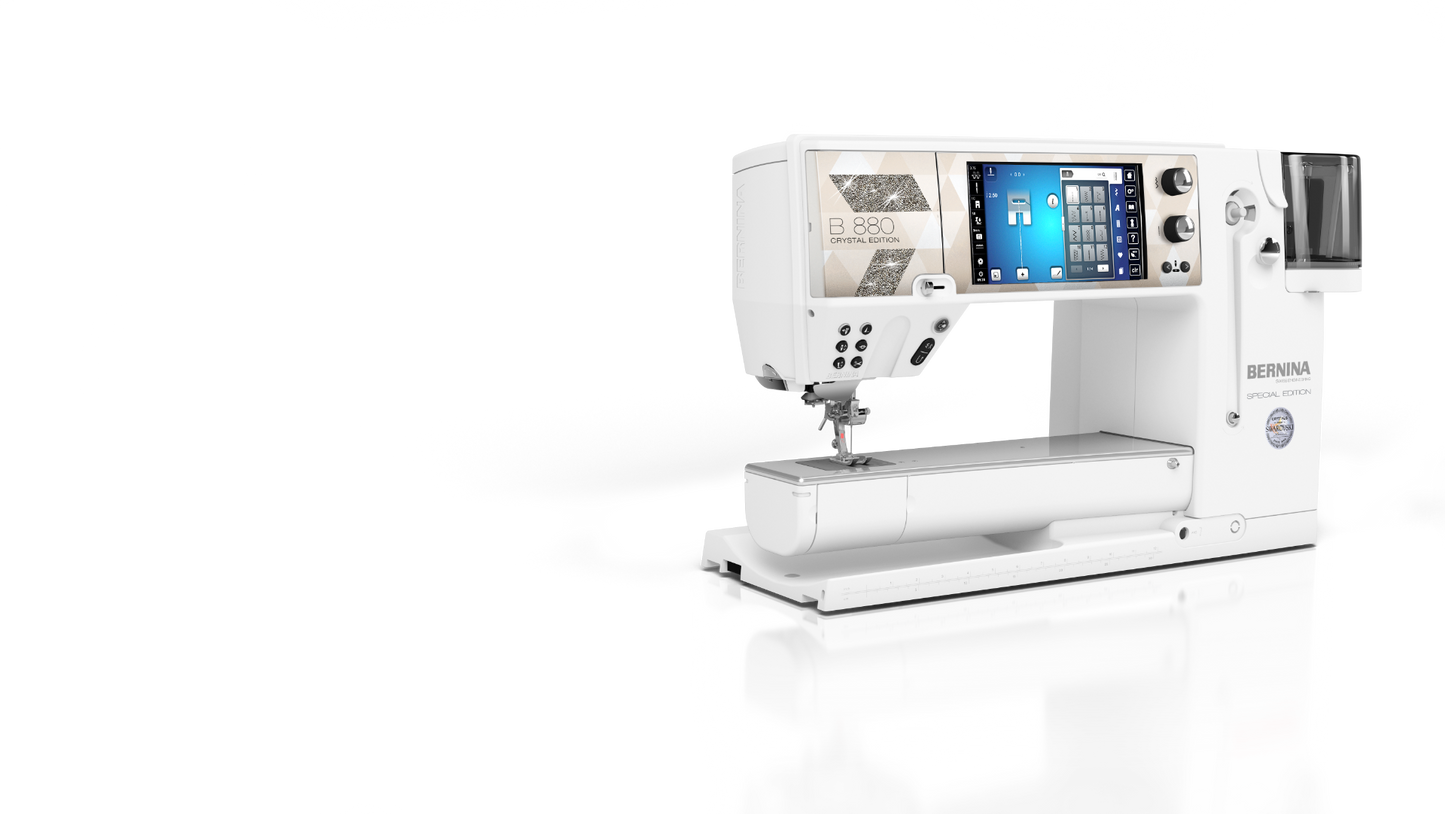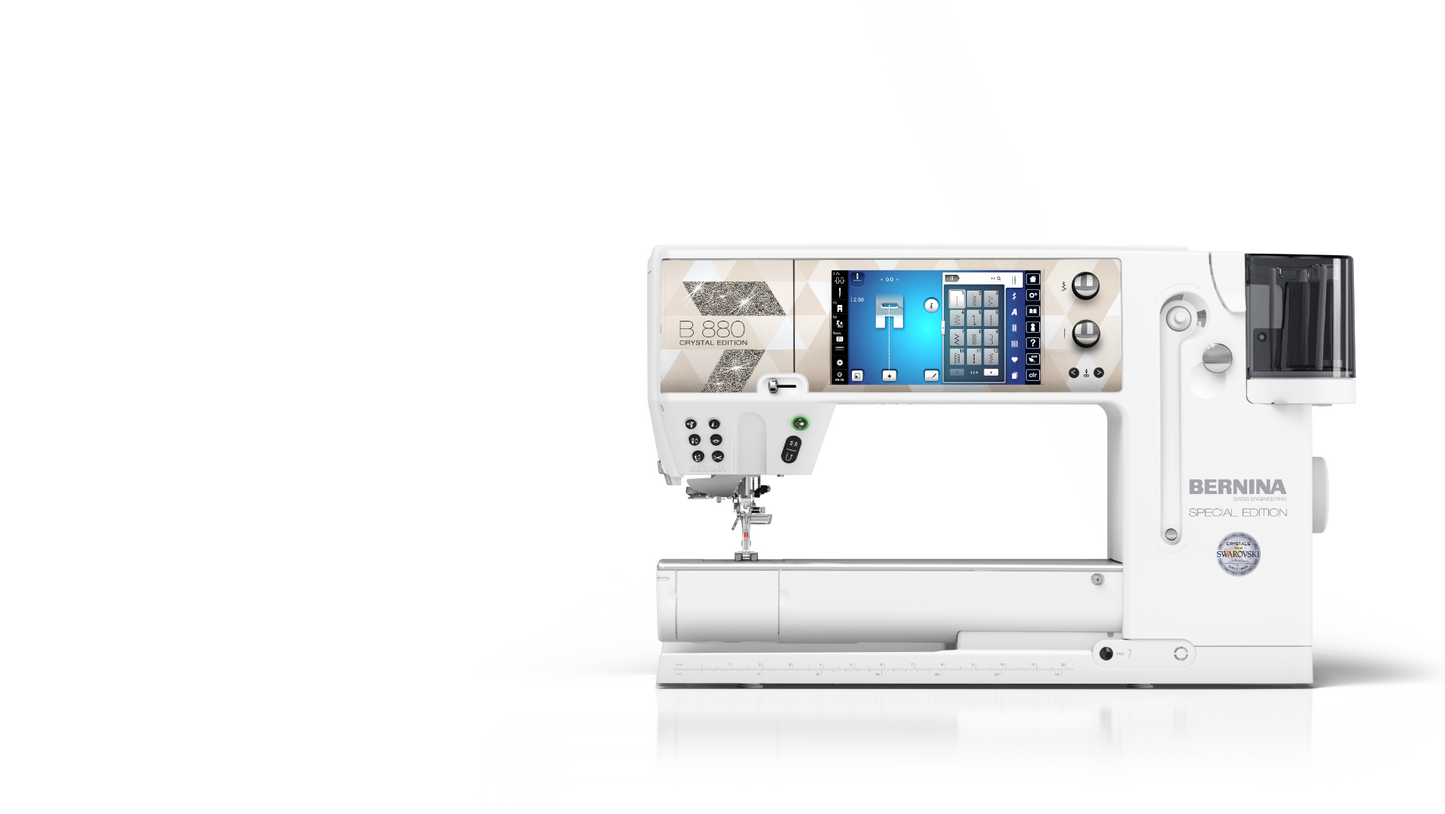 Ease effortlessly into your work with the automatic threading system, the BERNINA Stitch Regulator and the BERNINA Dual Feed, and enjoy the needle penetration power when working with thick materials, the high speed and the extra large working area.
Innovations such as the Color Wheel, Shape Designer and Stitch Designer assist users in creating their own designs and stitches. The new BERNINA 880 PLUS Crystal Edition is the perfect machine for those with a passion for sewing, embroidery and quilting with an extra glitz. Equipped with the new embroidery module with Smart Drive Technology (SDT) for an elevated embroidery experience and bundled with an Inspiration Kit, the B 880 PLUS Crystal Edition is the queen of exclusivity.
ALL FEATURES YOU'LL LOVE:
1. BERNINA Stitch Regulator (BSR)
2. Extended Free arm
3. Jumbo Bobbin
4. BERNINA Dual Feed
5. Fully Automatic Features
6. Unique Stitch and Shape Designer
7. Great Embroidery Features
8. Endless Embroidery Options
9. Embroidery module with Smart Drive
Technology (SDT)
Beautiful Embroidery Every Time
Place your design where you want
Clean embroidery results on the top
Intuitive & very easy to use
The B 880 PLUS Crystal Edition is enriched with exciting embroidery features like Pinpoint Placement, Enhanced Editing Functions, Total Embroidery Stitch Control and more.
Get a Feel for This Fantastic Machine
Handle large projects with ease
Comfortably create big quilts
Designed for the Jumbo Hoop
The extended freearm area of the B 880 PLUS Crystal Edition offers 12 inches of space to the right of the needle. Therefore, you will enjoy a huge sewing and embroidery area.
Automatic Features Are Yours!
Enjoy fully automatic threading
Threads are cut at the end of a seam
No manual lifting of the presser foot
The feed dog raises and lowers automatically for free-motion stitching when using the BERNINA Stitch Regulator, and for embroidery. The presser foot lowers at the start of a seam and lifts again at the end.
A Machine That Is Fast & Quiet
Sew & embroider longer at a stretch
Easy access to the Jumbo bobbin
Fastest sewing & embroidering
Sews quietly
The Jumbo Bobbin offers 70 % more thread capacity than standard bobbins and pops in and out with the touch of a finger. Sewing speeds up to 1,200 and embroidery speeds up to 1,000 stitches per minute.
Love the BERNINA Innovations
Achieve finest stitching results
Stitches are kept consistent
Assistance with free-motion sewing
Total Stitch Control, the BERNINA Dual Feed and the BERNINA Stitch Regulator are features BERNINA developed to guarantee precise stitch quality and results.
Add a Personal Touch To Your Project
Many stitches, many embroidery designs
USB stick with additional designs included
Additional unique Crystal Edition designs
The integrated Stitch Library offers over 1,764 stitches, is clearly categorized and stitches are easily retrieved. Find 11 font styles and 462 high-quality embroidery designs. Furthermore, you will get an USB stick with 300 more embroidery designs and 35 unique Crystal Edition designs.
Enhanced Editing
Undo & Redo steps while editing
Group & Ungroup designs
Rearrange designs
Undo or redo steps while editing or combining designs to return to your initial position. Combine designs to edit all at one time with group. Break apart designs to edit individually with ungroup. The design layer stitch-out sequence can also be customized.
Perfection is the new standard
No manual trimming on the top side
Invisible securing stitches
Smart tie-on/off stitches
Threads are automatically pulled down thanks to the Thread Away Mode. The Smart Secure function conveniently adds tie-on/off stitches to a design if none are pre-programmed. And the Invisible Secure makes the tie-on/off formation completely invisible.
Design Your Personal Stitch
Design & create your own stitches
Draw your stitch design directly on the screen
Convert the design into a stitch pattern
Edit stitches and create your own by drawing your ideas right on the touch screen. At the touch of a button, your design is converted into a stitch pattern.
Shape Your Imagination
Duplicate embroidery designs with one click
Arrange designs in your desired formation
Any formation is possible
The integrated Shape Designer offers you functions like duplicating and arranging designs in a circle, square or heart.
Choose Your Favorite Color
Color your design easily
Select your personal color scheme
Embroider your project in beautiful colors
With the Color Wheel, designs can be changed easily and coordinated to your favorite color scheme before you start embroidering.
Available for purchase online
In-Store Only
Included Feet
?Embroidery Foot #20C- The wide opening at the front of the foot affords a clear view of the stitching area, while the wide wedge-shaped channel under the sole of the foot ensures perfect fabric feed even over dense stitch formations.

?Zipper Foot #4D- Zipper foot #4D makes quick work of inserting zippers neatly and precisely. Its narrow, centrally placed toe allows Zipper foot #4D to get very close to the zipper coils, enabling it to attach the fabric securely. The result is a perfectly inserted zipper with a consistent stitch pattern.

?Buttonhole Foot with Slide #3A- With Buttonhole foot with slide #3A, a sensor on the presser foot determines the buttonhole length and relays the dimensions to the sewing machine.This allows perfectly identical buttonholes to be sewn again, until the size is changed.

?Reverse Pattern Foot #1D- With its cut-outs in front and back of the needle opening, Reverse-pattern foot #1D is ideally suited to sewing forward and reverse-feed stitches.

?BSR (Bernina Stitch Regulator)- The BERNINA Stitch Regulator (BSR) produces neat, consistent stitching with stitches of precisely the same length while free-motion sewing.

?Sideways Motion Foot #40- The Sideways-motion foot #40C makes light work of sewing large, elaborate designs in any direction. This presser foot has a decisive advantage: the edge of the cutout on its sole is beveled, allowing the foot to ride easily over the stitches in any direction.

?Drop Shape Embroidery Foot #26- Thanks to its special design, Drop-shaped embroidery foot #26 is the expert when it comes to optimum fabric grip and attractive embroidery results. The design of the sole as well as the teardrop-shaped needle opening provide for a secure grip, reducing the risk of damaging the upper thread.

?Button Sew On Foot #18- Button-sew-on foot #18 is an all-rounder for sewing on buttons, snap fasteners and eyelets. Its non-slip sole holds the button securely in place while it is sewn on.

?Jeans Foot #8D- Jeans foot #8D is especially suited for sewing straight-stitched seams in tough, heavy fabrics such as denim, linen or canvas. Multi-layered fabrics also benefit from its special design. ? Blindstitch Foot #5- Blindstitch foot #5 is the invisible-hemming expert. When you sew a blind-hem with this foot, the stitching can scarcely be seen from the front. With Blindstitch foot #5 the stitch is formed over a special blade that acts as a guide, creating a slightly loose stitch so that the hem lies nice and flat.
Included Accessories
?Bobbins (one of them in the sewing computer)-The bobbins are filled with the lower thread.

?2 Foam pads The foam pad prevents the thread from getting hooked at the spool pin.-

?Selection of needles-The needle assortment contains different versions and sizes of needles for all the common applications.

?Soft Cover with pocket-The soft cover protects from dust and contamination.

?Accessory box-The accessory is stored in the accessory box.

?3 Spool discs-Spool discs hold the thread spool in place for proper release of thread from the spool.

?Seam ripper-The seam ripper is an indispensable tool to ando stitches or to cut buttonholes open.

?Height compensation tool-The height compensation tool levels an angled position of the presser foot sole when sliding over thick seams.

?Angular Torx wrench-Using the angular Torx wrench the headframe can be opened.

?Screwdriver Torx, gray-Use the gray screwdriver Torx to change the needles.

?Screwdriver red-The red screwdriver is supplied as an all-round tool.

?Brush-The brush is used to clean the feed dog and the hook area.

?Lubricator-The lubricator is used to fill up the oil depots.

?Power cable-The power cable connects the machine with the power supply system.

?Foot control-Via the foot control the machine is started and stopped. The speed of the machine is also controlled via the foot control. Always use the foot control of the type LV1 with this machine.

?Free Arm Slide On Table-Attached to the free arm, it increases the existing work space. At the same time, its special shape ensures that free-arm functionality remains available, and that fabric feeds smoothly during sewing.

?Embroidery Module- The new BERNINA Smart Drive Technology (SDT) module elevates your embroidery experience with enhanced stitch quality, smoother and quieter movement and up to 55% higher embroidery speed.

?Small Embroidery Hoop

?Medium Embroidery Hoop- Max. embroidery area 100 x 130 mm

?Large Oval Embroidery Hoop-Max. embroidery area 145 x 255 mm