SKU: QMV-01-12572
Sale price
$4,499.00
Regular price
$4,999.95
10% off
Unit price
per
or $188/month for 24 Months*
Suggested monthly payments with 24-month special financing on your Sewing and More credit card.
or
Quilter's Creative Touch 5 is the newest version of Grace's automation software which has been carefully crafted to offer more user-friendly control. The interface has been redesigned to make the whole quilting process easier and more straight forward than ever before!
Availability: In stock
View full details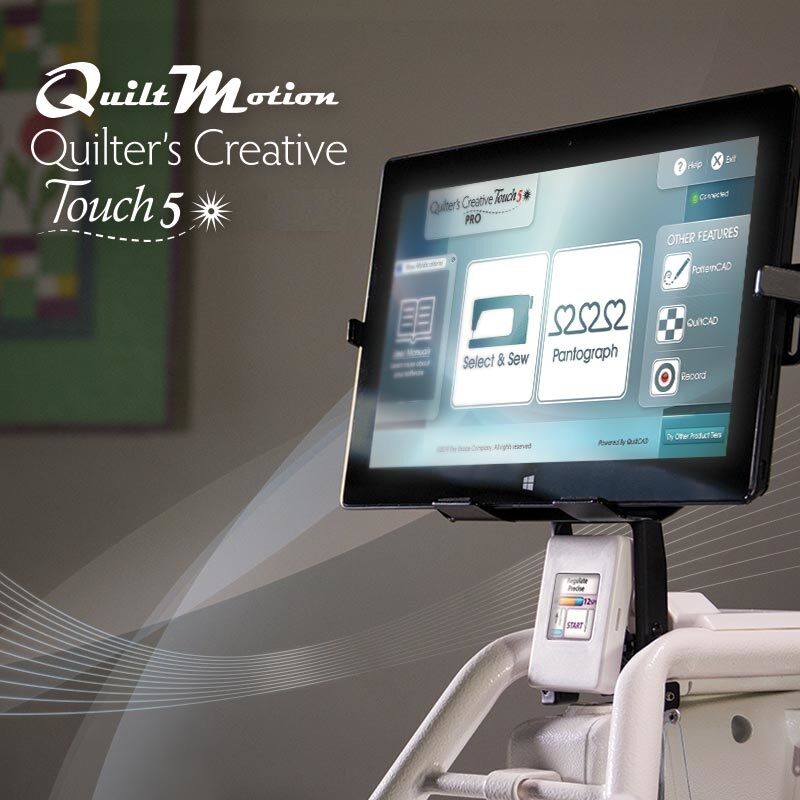 Let your machine do the quilting for you! QuiltMotion QCT5 Pro is a computer automated quilting system that lets you create your masterpieces in steps as simple as select, place, and sew.
QCT5 Pro gives you more creative control over your quilted patterns. Design and edit any pattern, even trace them from your favorite photographs. Create simple or intricate pantographs, and so much more!
Looking to get computerized quilting at an even more affordable price point?
QCT5 Beginnings is a budget-friendly automated system that offers all of the essential features of computerized quilting. Just like the full version of Quilter's Creative Touch, the Beginnings tier lets you create your masterpieces in steps as simple as select, place, and sew.
The Beginnings tier is the perfect introduction to computer automated quilting. Select patterns from the included library, and easily place them on your quilt for sewing. If you ever decide to take the next step and start designing your own patterns, an upgrade option to the fully featured QCT5 standard tier is available.
ADVANCED QUILTER'S CREATIVE TOUCH FEATURES:
EXTENSIVE PATTERN LIBRARY:
Creative power right at your fingertips
The included pattern library contains over 200 patterns from which to choose. You can use these pre-defined patterns, or more advanced users can create their own or import patterns downloaded from other sources. Now you CAN replicate that dream pattern.
PRECISE PLACEMENT METHODS:
Different placement methods for different pattern shapes
The user-friendly screen allows you to precisely align your pattern in relation to your quilt directly on-screen using 7 different methods. You physically set the pattern with your machine and can preview the output based on your method. No square ruler or complex math required.
EASY PANTOGRAPH ROWS:
Simplified pattern alignment
PantoStacker creates single rows or alternating, staggered double rows that can then be used to sew an entire quilt. Pick a mode, and, depending on your subscription level, you are given different levels of adjustment of the pantograph size, as well as the patterns inside the pantograph. Easily get perfect alignment without ever touching a yardstick!
PATTERN DESIGN:
Advanced pattern creation tools
Need more flexibility than the pre-built designs? From simple lines to complex designs, there are numerous options to achieve the optimum results. You can modify pre-defined patterns or start completely from scratch. With PatternCAD, the only limit is your imagination.
QUILT LAYOUT:
Quilt Block Layout
If you want to design an entire quilt layout, there are some options that can only be covered in this section. If you want intricate layouts with different blocks throughout your quilt, look no further. Create beautiful masterpieces with QuiltCAD.
TRACE PHOTOGRAPHS:
Recreate your original photos or art
Import any photo on your system into PatternCAD and you can trace it to reproduce on your quilt. Simply click as many points as you wish to outline your image and use the design just as any other pattern. Beautiful portraits and stunning images are as easy as point, click, sew.
PATTERN OPTIMIZER:
Easily fix and clean-up your work
Fix breaks in your pattern, adjust start/stop points, optimize all aspects of your design. Even see how it will stitch beforehand with our animate feature. Know it's exactly right before you sew even a single thread.
PRINT PATTERNS:
See it on paper before you stitch
You can choose to print a single pattern, the whole row, or the entire quilt from here. See how your quilt will look or even use it to trace directly onto your quilt for free-motion sewing. It's as simple as setting your pantograph to print across multiple pages.
RECORD FREE-MOTION:
Complete control
Trace a pattern or have the software record your motion to sew or save for a later time. Start, edit, stop, re-record. This is the ultimate in designing your original work.
EASY BORDER DESIGN (Gold Access Only):
Simple layout of borders
Use any pattern you have created to design a border for your quilt. As with other sections, there are different levels from simple border creation to advanced creation of sections and custom layout fitting. Complete your quilt by framing it like the work of art it is.
EXTEND YOUR REACH (Gold Access Only):
You don't need a bigger machine
If you have a pattern that is bigger than your machine's throat, this is the section for you. Virtual Longarm will take your oversized pattern and break it up based on your individual throat size. You can create those large designs without having to calculate a grid. We do the hard work so you don't have to.
DESIGN WITH FONTS (Gold Access Only):
Different placement methods for different pattern shapes
You can also create pantographs in the format of any font installed on your system. Simply pick a font, type what you wish to say, and save the pattern for insertion in any placement method you desire. Beautiful type layouts are sew easy!
Recommended Windows Tablet System Requirements:
Quilter's Creative Touch is best on Windows tablets. The software will also work with any Windows home PC or laptop that meets the system requirements, but it has been designed to be used with touch–screen tablets, offering the freedom to use it wherever you go, and have all of the functionality right at the sewing machine where you need it most. When deciding if your Windows tablet will work with Quilter's Creative Touch, here are some other suggestions to keep in mind.
SPEC REQUIREMENTS:
QCT5 will only work on devices running Windows 7, 8, 10 or higher. It will not work with any version of Windows RT
A 1.66 GHz. or faster processor is recommended
A device with a total of 64 GB hard–drive space is recommended, with at least 2GB available for installation
2 GB or more of RAM is recommended
A full–size USB port is required. If your tablet uses a USB port to charge, it must have a second USB port to plug into QCT5. *Tablet is preferred
The included tablet mount will hold tablets with screen sizes from 10 to 12 inches
Internet connectivity is necessary for software registration, activation, and card access benefits
Screen resolution of 1024 x 768 or higher
ASSOCIATED FILE TYPES:
Already have your own collection of digital patterns? The following file types can be opened by any version of QCT5 and some versions will also allow you to export or batch import any of these file types.
DXF
SSD
QLI
CMD
TAP
Qdata
CQP
TXT
HQF
XY
| | |
| --- | --- |
| Available for purchase online | Available Online and In-Store |
| Color | White |