SKU: BA-BLTA
Sale price
$7,999.00
Regular price
$12,999.00
38% off
Unit price
per
Send your creativity into a new galaxy with the Baby Lock Altair. It makes realizing your sewing and embroidery projects a reality thanks to IQ Technology™ that allows you to wirelessly transfer images to your machine from your smart device using the IQ Intuition™ Positioning App for perfect design placement in the hoop or design creation in IQ™ Designer.
Receive a FREE GIFT with your purchase of a Baby Lock Altair 1 until December 27th!
Free Gift Includes:
• Upgrade Bundle (Welcome Home Embroidery Collection, Madeira Sensa Green 18 Spool Thread Set, and $30 of discount codes — a $200 Value!)
• Baby Lock 7" x 12" Magnetic Hoop
• 60 Days of FREE Online Classes with Baby Lock's Love of Knowledge Membership
A $999 value!
Register for your 60 Day Online Classes by CLICKING HERE
Availability: Low stock 4 left
View full details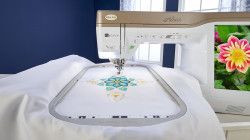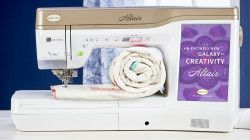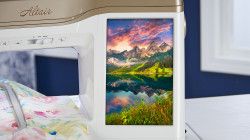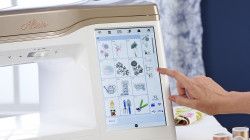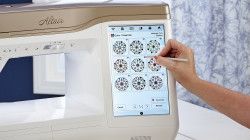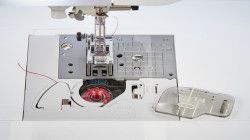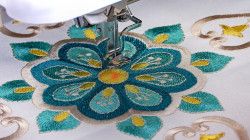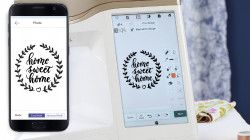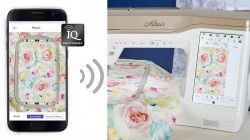 IQ INTUITION™ POSITIONING APP
Use the IQ Intuition Positioning App to take a photo of your fabric in a special hoop and transfer it wirelessly to the Altair. The image will display onscreen in lifelike color and sharp resolution, allowing you to position your design exactly where you want it, how you want it – every time.
9.5" X 14" EMBROIDERY FIELD
Stitch bigger embroidery designs and enjoy less re-hooping with a large embroidery field.
IQ DESIGNER
Create your own embroidery designs with ease. Take a photo with the IQ Intuition Positioning App and wirelessly transmit it to the Altair! Draw directly on the screen or if you're feeling inspired by an existing art file, simply upload it to the Altair through the USB drive. Your art will be instantly digitized with the colors and fill stitches you choose.
WIRELESS CAPABILITY
Use your favorite embroidery design software like Palette (version 11 or higher, sold separately) to wirelessly transmit your designs from your computer to the Altair.
10.1" LCD SCREEN
You'll have total control over every single aspect of your stitches, embroidery designs, placement, colors and more on a large touchscreen. Comparable to many popular tablets, it features large, clear buttons and vivid colors.
LARGE 11.25" WORKSPACE
With a generous 11.25" workspace to the right of the needle, Altair gives you plenty of room to work. Those larger projects aren't anything to worry about!
COLOR VISUALIZER
Choose from random, vivid, gradient and soft, and watch as your design is transformed in an array of color combinations. Tag your favorite color combinations, then select your favorite from the finalists.
494 EMBROIDERY DESIGNS
You'll always have something to embroider with Altair's huge selection of built-in designs that includes 200 exclusive designs from Baby Lock. The design library features large thumbnails to make finding the right match even easier.
771 STITCHES
Altair is loaded with stitches, giving you plenty of options for every project. Best of all, you can combine them for countless stitch combinations and you can save them in memory to retrieve them at any time.
QUICK-SET DROP-IN BOBBIN
Simply drop your bobbin in the machine, pull your threads through the slot and let your machine do the rest.
NEEDLE BEAM
Know exactly where the needle will drop every time with a brilliant LED pointer on the included embroidery foot. There's no more guesswork.
Learn How to Use This Machine with Our Free Class!
Baby Lock's Love of Knowledge
A Love of Knowledge Membership gives you access to more than 900 classes taught by 35 Baby Lock experts that cover more than 200 products. Classes cover everything from machine set up to specialty features and accessories to project tutorials that help you learn new techniques!
Purchase a 2-year membership and you'll receive access to unlimited sewing classes with new tutorials added regularly, all for less than $9 a month!
| | |
| --- | --- |
| Available for purchase online | Available Online and In-Store |
| Color | White |
| Features | ?NEEDLE TO RIGHT OF MACHINE DISTANCE: 11.25" ?MULTIPLE LANGUAGES: Yes ?ON-SCREEN EDITING: Yes ?TOTAL NUMBER OF USB PORTS: 2 ?NUMBER OF USB TYPE A PORTS: 2 ?TOUCH SCREEN: Yes ?COLOR SCREEN: Yes ?SCREEN SIZE: 10.1" ?BUILT-IN FONTS: 30 ?MAXIMUM STITCH LENGTH: 5 mm ?BUILT-IN UTILITY STITCHES: 150 ?BUILT-IN COMBINED UTILITY STITCHES: 63 ?BUILT-IN CROSS STITCHES: 17 ?BUILT-IN DECORATIVE STITCHES: 442 ?BUILT-IN SATIN STITCHES: 20 ?NUMBER OF ONE-STEP BUTTONHOLES: 15 ?NUMBER OF FOUR-STEP BUTTONHOLES: 1 ?NUMBER OF NEEDLES: 1 ?AUTO NEEDLE UP/DOWN: Yes ?NEEDLE THREADER TYPE: NeverMiss Automatic Advanced Needle Threading System ?THREAD CUTTER: Yes ?NUMBER OF FEET INCLUDED: 14 ?FEEDING SYSTEM TYPE: Digital Dual ?BOBBIN WINDING: 1 ?BOBBIN LOADING TYPE: Quick-Set, Top loading ?TENSION SYSTEM: Automatic ?FREE ARM: Yes ?ACCESSORY STORAGE: Yes ?SEW WITH EMBROIDERY UNIT ATTACHED: Yes ?MIRROR IMAGE CAPABILITY: Yes ?DESIGN DUPLICATION: Yes ?EMBROIDERY PATTERN MEMORY: Yes ?EMBROIDERY SPEED: 1,050 SPM ?MAXIMUM EMBROIDERY SIZE/AREA: 9.5" x 14" ?ROTATION CAPABILITY: Yes ?COMBINE DESIGNS: Yes ?FRAME PATTERNS: 140 ?BUILT-IN DESIGNS: 494 ?VARIABLE SPEED CONTROL: Yes ?KNEE LIFT/HANDS-FREE PRESSER FOOT LIFT: Yes ?LATERAL DIAGONAL FEEDING: Yes ?PRESSER FOOT TYPE: Snap-on ?DATA INPUT TYPES: .pes, .phc, .pec, .dst, .exp ?LCD SCREEN: Yes ?MPEG-4 MOVIE/VIDEO PLAY FUNCTION: Yes ?ADVANCED PIVOTING FEATURE: Yes ?CUTS JUMP STITCHES: Yes ?BUILT-IN DECORATIVE SATIN STITCHES: 79 ?BUILT-IN ALPHABETS: 4 ?UTILITY STITCH EDITING CAPABILITIES: 1 ?VARIABLE NEEDLE POSITION: Yes ?TWIN NEEDLE SEWING: Yes ?AUTOMATIC BASTING: Yes ?AUTOMATIC APPLIQU?: Yes ?AUTOMATIC FABRIC SENSING SYSTEM: Yes ?RESUME MODE: Yes ?PROGRAMMABLE SHUTOFF CAPABILITIES: Yes ?ECO POWER MODE: Yes ?WIRELESS WI-LAN FUNCTION DATA TRANSFER TECHNOLOGY: Yes ?LIGHTING: 2, LED ?MACHINE ONLY WEIGHT: 37.5 lbs ?WEIGHT WITH EMBROIDERY UNIT: 47.6 lbs ?MACHINE ONLY WIDTH: 29.125" ?MACHINE ONLY DEPTH: 15.9375" |
| Built-In Stitches | ?150 Utility Stitches ?63 Combined Utility Stitches ?17 Cross Stitches ?442 Decorative Stitches ?20 Satin Stitches ?30 Fonts ?15 One-Step Buttonholes ?1 Four-Step Buttonhole |
| Built-In Embroidery Stitches | ?140 Frame Patterns ?494 Embroidery Designs |
| Connectivity | Use IQ Intuition Positioning app to: ?Precisely place embroidery designs ?Transmit images to create designs in IQ Designer |
| Included Feet | ?Digital Dual-Feed System Foot ?Embroidery foot with LED pointer ?General purpose zigzag ?Blind stitch ?Buttonhole ?Button fitting ?Free-motion open toe quilting ?Free-motion quilting ?Free-motion echo quilting ?Monogramming ?Overcasting ?1/4" Quilting foot with guide ?Straight stitch foot ?Zipper |
| Included Accessories | ?Hands-free knee lift ?Touch pen (stylus) ?14 Snap-on presser feet ?Easy-lock accessory case for presser foot storage with interchangeable trays ?Soft canvas cover for machine with 3 storage pockets ?2 Thread spool stand for larger cones ?Straight stitch needle plate ?Alternate bobbin case for use with pre-wound bobbins ?Bobbin center pin ?Bobbins (10) ?Embroidery Positioning Stickers (4-Sheets of 64) ?Lens calibration sheet for use with the positioning app ?Presser foot adaptor ?Seam ripper ?Twin needle ?Needle set ?Scissors ?Cleaning brush ?Eyelet punch ?Screwdrivers ?Spool caps (5) ?Spool felt and Spool nets (2) ?Embroidery needle plate cover ?Foot controller ?Bobbin covers: cord guide, plain and with seam guide marks ?Chalk pencil ?IQ IntuitionTM Positioning embroidery hoops and grids included: ?9.5" x 14" (240mm x 360mm) ?9.5" x 9.5" (240mm x 240mm) ?5" x 7" (130mm x 180mm) ?4" x 4" (100mm x 100mm) |
| Warranty | Warranty (25 years limited, 10 years parts, 5 years computer circuit, 5 years electrical, 1 year labor) |