SKU: BRNQ1700E-RC
Sale price
$2,699.99
Regular price
0% off
Unit price
per
The perfect machine to launch your embroidery journey, the Innov-ís NQ1700E has a host of premium features to get you started.
Each machine comes with a 1 year parts and labor warranty from Quality Sewing and Vacuum.
Call Now for Exclusive Machine Adoption Pricing!
Availability: In stock
View full details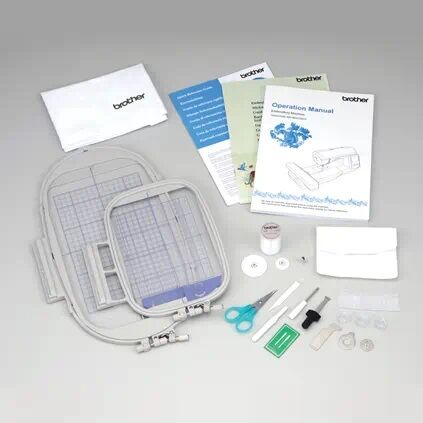 With the NQ1700E, you can embellish and personalize all of your DIY projects with 258 built-in embroidery designs, 140 frame pattern combinations, and 13 embroidery lettering fonts, plus a large 6" x 10" embroidery area so you can tackle those big projects.
Edit your creations right at your fingertips on the generous 4.85" color LCD touch screen display and when connected to a wireless network, send designs to your machine using Design Database Transfer (no USB needed).
Machine Features:
An abundance of built-in designs- The NQ1700E comes with 258 built-in embroidery designs, 140 frame pattern combinations, and 13 embroidery lettering fonts.
Wireless capability- The durable NQ1700E has wireless ability, so you can send designs from your PC to your machine when connected to a wireless network, using Design Database Transfer (no USB needed).
Large work area- Enjoy working on a generous 6" x 10" embroidery area, and with a sizeable 8.3" from needle to arm so you can tackle big projects.
Color Display- You can edit your designs on the 4.85" color LCD touch screen display, which is intuitive with on-screen editing, enhanced zoom, resizing, rotating, repositioning, drag and drop, and combining designs, all right at your fingertips.
Increase your Productivity- A host of inspiring features such as Automatic Thread Cutting and an advanced Automatic Thread Trimming System will increase your productivity.
Bright Work Area- Keep the project going with bright LED lights will keep you creating.
iBroidery compatible- Peruse over 5,000 designs available for individual purchase on iBroidery.com. Who knows what you'll create next!
USB - Yes
Wide Table Included - No
Meet the New Machine


Available for purchase online
Available Online and In-Store
Features
Machine Features:


An abundance of built-in designs- The NQ1700E comes with 258 built-in embroidery designs, 140 frame pattern combinations, and 13 embroidery lettering fonts.
Wireless capability- The durable NQ1700E has wireless ability, so you can send designs from your PC to your machine when connected to a wireless network, using Design Database Transfer (no USB needed).
Large work area- Enjoy working on a generous 6" x 10" embroidery area, and with a sizeable 8.3" from needle to arm so you can tackle big projects.
Color Display- You can edit your designs on the 4.85" color LCD touch screen display, which is intuitive with on-screen editing, enhanced zoom, resizing, rotating, repositioning, drag and drop, and combining designs, all right at your fingertips.
Increase your Productivity- A host of inspiring features such as Automatic Thread Cutting and an advanced Automatic Thread Trimming System will increase your productivity.
Bright Work Area- Keep the project going with bright LED lights will keep you creating.
iBroidery compatible- Peruse over 5,000 designs available for individual purchase on iBroidery.com. Who knows what you?ll create next!
USB - Yes
Wide Table Included - No

Embroidery Features:


Adjustable Design Icon Size Setting - Yes
Adjustable Embroidery Speed Settings - Yes
Automatic Feed Thread Cutting - Yes
Built-In Alphabet Designs - Yes
?Built-In Alphabet Fonts - 13 ?Built-In Designs - 258 ?Built-in Embroidery Lettering Alphabet Fonts - 13 ?Color Shuffling Function - Yes ?Curved Text on Screen Editing - Yes ?Drag and Drop Editing - Yes ?Embroidery Position Marker - No ?Maximum Embroidery Area - 6" x 10" ?Maximum Embroidery Speed (spm) - 850 ?Monogramming Font Styles - Yes ?Onscreen Automatic Density Adjustment - No ?On-Screen Editing - Yes ?Speed Adjustment - Yes
Warranty
2/6/25 Year Premium Limited Warranty