SKU: 12434
Sale price
$64.99
Regular price
0% off
Unit price
per
The Magna-Glide magnetic core embroidery bobbin is wound with the industry standard twisted polyester thread, similar to the Coats V-15 embroidery bobbins. The Magna-Glide embroidery bobbin is an extremely smooth sewing bobbin with constant tension delivery and no backlash or overspin and helps prevent birdnesting. Magna-Glide embroidery bobbins work best in embroidery machines with metal bobbin cases
Availability: Low stock 3 left
View full details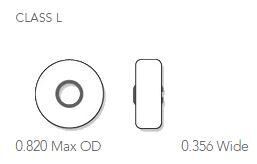 The Magna-Glide magnetic core embroidery bobbin is wound with the industry standard twisted polyester thread, similar to the Coats V-15 embroidery bobbins. The Magna-Glide embroidery bobbin is an extremely smooth sewing bobbin with constant tension delivery and no backlash or overspin and helps prevent birdnesting. Magna-Glide embroidery bobbins work best in embroidery machines with metal bobbin cases
The Magnaglide magnetic core sideless embroidery bobbin contains polyester thread that runs with a consistent sewing tension throughout the entire bobbin allowing you to sew out all the bobbin thread. Magna Glide bobbins will improve your machine embroidery, increase your efficiency, and save you time and money.
Uniform Tension Control - Our patented magnetic core creates consistent delivery throughout the entire bobbin. No more interruptions for tension adjustments as your bobbin gets smaller. Magnetic core prevents backlash or over spin and eliminates the need for check springs.
Fewer Bobbin Changes - Our magnetic core bobbin offers significantly more yards per bobbin changes results in fewer defects and more production.
Clean Running - Advanced EB cross-link technology reduces lint and residual build-up in the bobbin case and tension spring. The result is a more trouble-free bobbin.
High Quality Yarn - Fil-Tec uses only the finest quality high tenacity polyester yarns to make it patented magnetic core embroidery bobbin.
| | |
| --- | --- |
| Available for purchase online | Available Online and In-Store |
| Color | White |