SKU: BA-BLS1
Sale price
$999.00
Regular price
$2,499.00
60% off
Unit price
per
Finished another project? Time to celebrate!
The easy-to-use Celebrate includes adjustable manual tensions, allowing for perfect stitches on any type of fabric.
Receive a FREE GIFT with your purchase of a Baby Lock Celebrate until December 27th!
Free Gift Includes:
• 60 Days of FREE Online Classes with Baby Lock's Love of Knowledge Membership
A $199 value!
Availability: 11 in stock
View full details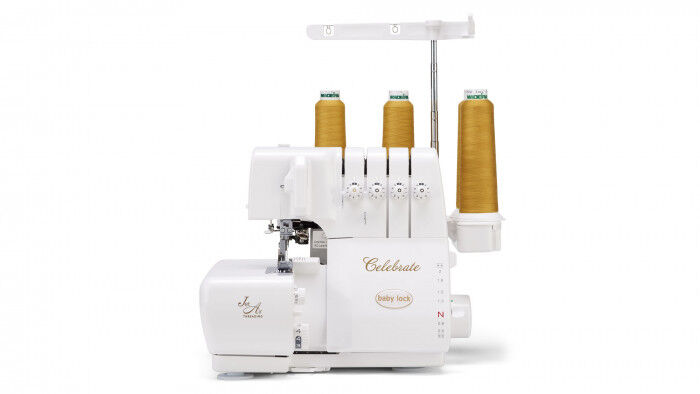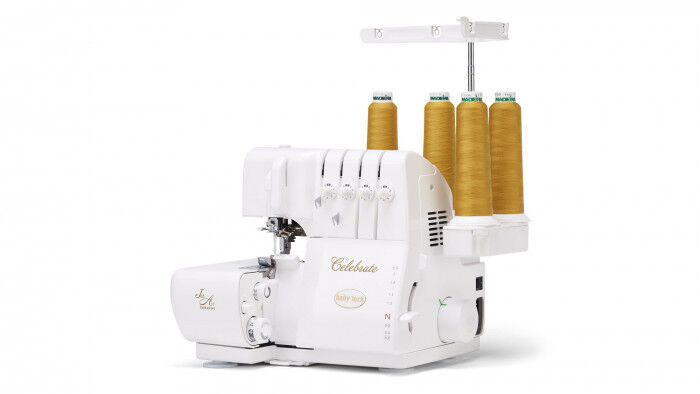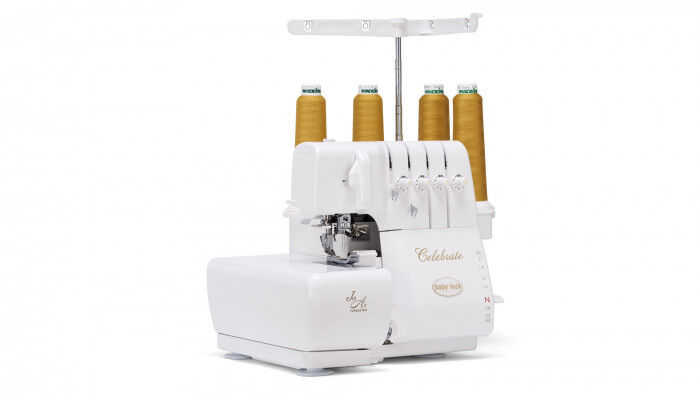 Baby Lock Celebrate 4/3/2 Serger
Finished another project? Time to celebrate! The easy-to-use Celebrate includes adjustable manual tensions, allowing for perfect stitches on any type of fabric. Jet-Air Threading™ threads your machine with the touch of a lever. Plus, Celebrate's presser foot features a 6mm height that makes serging on thicker fabrics a breeze!
Key Features of the Baby Lock Celebrate:
JET-AIR THREADING:
With just the touch of a lever, thread is sent through the tubular loopers. There are no thread guides, no struggling and there's plenty of time to serge away!
NEEDLE THREADING SYSTEM:
Hold the needle threader in place for quick and easy threading with just the touch of a lever.
MICROMATIC TWIN CAM TENSION SYSTEM:
Eliminates thread tangles and delivers proper tension with all threads on any fabric.
PURE LIGHTING WITH 1 LED LIGHT:
Clearly see every stitch, fabric and thread color under one bright LED light.
ADJUSTABLE PRESSER FOOT HEIGHT UP TO 6MM:
Celebrate features a higher presser foot height to effortlessly handle thicker and loftier fabric.
TUBULAR LOOPERS:
There's no exposed thread, no thread guides and you can thread in any order! Tubular loopers eliminate threading mistakes and protect the thread for more serging freedom.
FULL FEATURED SINGLE UNIT DIFFERENTIAL FEED:
We've taken the differential feed to a new level by adding a single-unit feed dog mechanism. This ensures stronger feeding as well as consistent gathering on all fabrics.
ADVANCED KNIFE DRIVING AND ONE-WAY CLUTCH SYSTEM:
Baby Lock has created a knife system with a larger cutting bite that cuts thicker fabric with ease and increased visibility.
VERTICAL NEEDLE PENETRATION:
While some machines use slanted needles that push and damage fabric, the Celebrate's needles are set vertically and sew directly up and down, protecting your fabric and preventing needle deflection.
FABRIC SUPPORT SYSTEM:
The Fabric Support System keeps stitches flat and balanced, no matter what speed, fabric or stitch you choose. The built- in stitch fingers actually move with the knife blade, adjusting the seam concurrently with the cutting width.
DIAL ADJUSTABLE STITCH LENGTH AND AUTOMATIC ROLLED HEM:
Stitch length can be easily adjusted on a Baby Lock serger using one dial. This dial includes an Automatic Rolled Hem setting that will retract the built-in stitch width finger for a rolled hem finish.
Learn How to Use This Machine with Our Free Class!
Baby Lock's Love of Knowledge
A Love of Knowledge Membership gives you access to more than 900 classes taught by 35 Baby Lock experts that cover more than 200 products. Classes cover everything from machine set up to specialty features and accessories to project tutorials that help you learn new techniques!
Purchase a 2-year membership and you'll receive access to unlimited sewing classes with new tutorials added regularly, all for less than $9 a month!
Available for purchase online
Available Online and In-Store
Color
White
Features
Dial adjustable stitch width: 1.5 - 7.5mm
Dial adjustable stitch length: 0.75 - 4mm
Dial adjustable built-in rolled hem
Knife and needles closer for easier serging curves
Heavy-duty cutting system
Side thread cutter
1500 Stitches per minute
Presser foot pressure adjustment
Adjustable presser foot height up to 6mm
Built-In Stitches
Rolled hemming with 2 or 3 threads
Flatlock stitching with 2 or 3 threads
Two-Thread Overlock Conversion: 1
Rolled Hem: Built-in
Maximum Stitch Width: 7.5mm
Maximum Stitch Length: 4mm
Included Feet
Presser Foot Type: Snap-On
Number of Feet Included: 1
Included Accessories
Foot Control
Lint brush/needle insert tool
Two needle clamp screws
Package of assorted sized needles
Small screwdriver
Tweezers
Upper cutting blade for replacement
Looper threading tool
Screwdriver
Machine soft cover
Warranty
?Product Casting: 25 years
Defective Parts: 10 years
Electrical: 5 years
Labor: 1 year
Additional Information
?Machine Only Width: 12.5"
Machine Only Height: 11.5"
?Machine Only Depth: 11"
Video